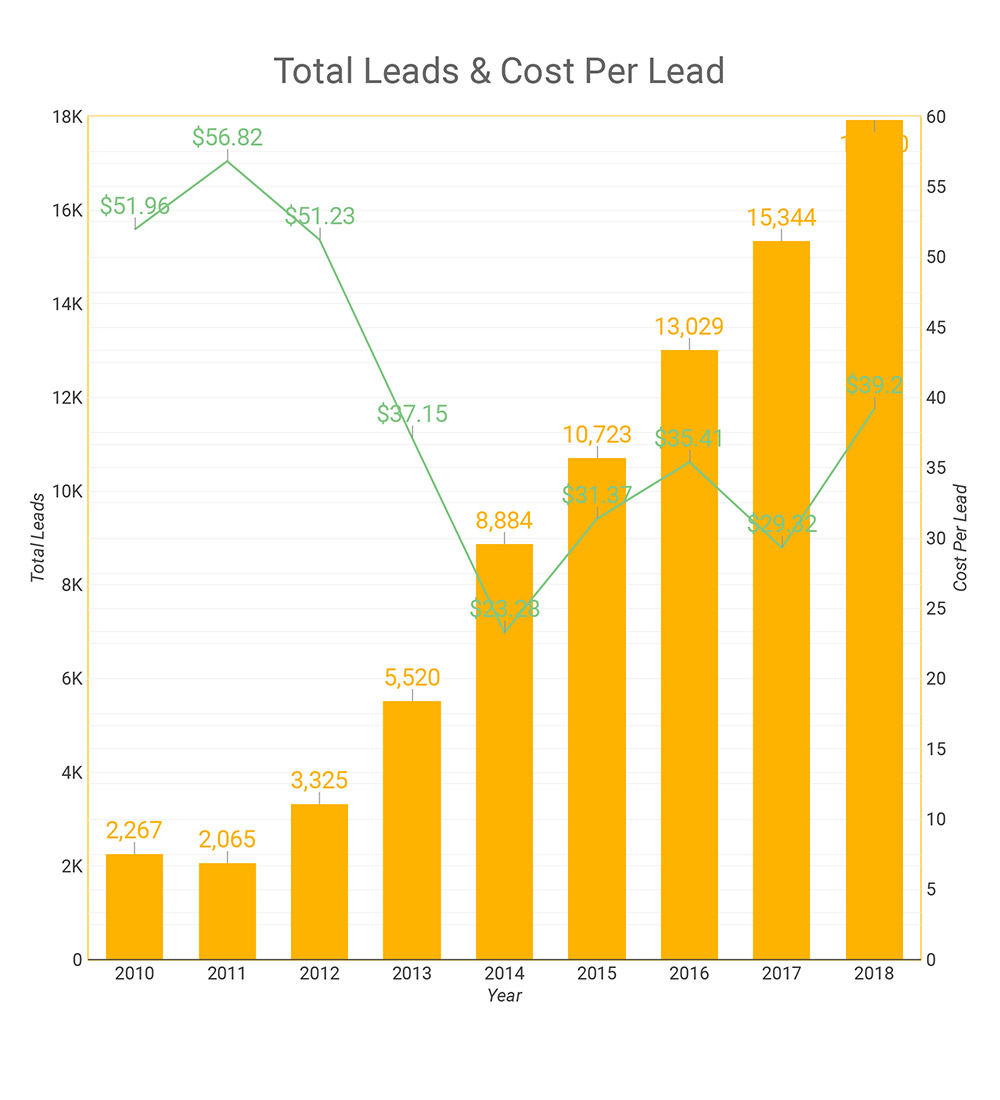 This case study comes from one of our oldest clients, which we started working with at the tail end of 2011. At the time they were a new company offering a variety of debt services. They were spending money on Google Ads, but weren't seeing the results they were looking for. We were hired for two objectives that are fairly common in our business: decrease the cost per lead and scale up the volume.
This case study spans about 8 years at this point, so the strategy has evolved significantly over time. However, initially the setup was relatively simple. The client was actually a faith based organization, which was a very niche market for the financial sector, so we wanted to get everything we could there. The client also couldn't advertise in every state, but GEO specific terms were already very expensive, so we stayed away from focusing too much on ads targeting specific locations and instead focused on a broader, more generic approach. This meant we could get more traffic at a lower cost per click and work on increasing our conversion rates via better analytics and landing page optimizations. The client was also generating a decent amount of leads via phone calls, so an integral part of those advanced analytics was setting them up with dynamic call tracking.
Armed with advanced analytics and a two-prong campaign approach focusing on the niche faith based market and the broader generic market, we set the campaign live…
The client remains with us today after nearly a decade, and we continue to increase lead volume year-over-year.  So… it's safe to say the results have been pretty solid.  When we picked up the campaign towards the tail end of 2011, the lead volume was stagnant and the cost per lead was increasing.  Over the next year we increased the lead volume by 61% while reducing the cost per lead by about 10%.  The results only got better from there.
With a lower CPA the client was able to invest more into advertising and fuel more and more growth.  Fast forward to 2018 and we had grown this account from spending about $10k/month and generating 170 leads/month – to now spending $60k/month and generating 1,500 leads/month.  The client is still happy today and we're continuing to grow the account to meet their needs.
If you're looking to take your PPC campaign to the next level, feel free to contact us today and find out how we can help!
Lead Increase (2011 vs 2018)
Leads/Month (2011 vs 2018)
Cost Per Lead (2011 vs 2018) These guys are great! Super knowledgeable in a very competitive PPC space addiction treatment. They handle multiple accounts for us, over 100k ad spend and the results are amazing. We have used other firms in the past but these guys so far are the best.
In addition to being a pleasure to work with, Full Circle SEM has proven to be highly effective in driving quality traffic. We have worked with a number of companies that seem like they have the right ideas but no one has delivered the way that Full Circle has. I am a tough customer to please and I could not be happier.
Super fast customer service and treats us like family not another computer! I'd recommend Full Circle SEM to anybody especially those with limited aptitude in those areas (like me). 11 on a scale from one to 10!
We've been a client of Full Circle SEM for 4 years and have been extremely pleased. Very competitive pricing with quick results. You could trust their skills & knowledge to do the right marketing for your company.