Boost Organic Traffic With Engaging Content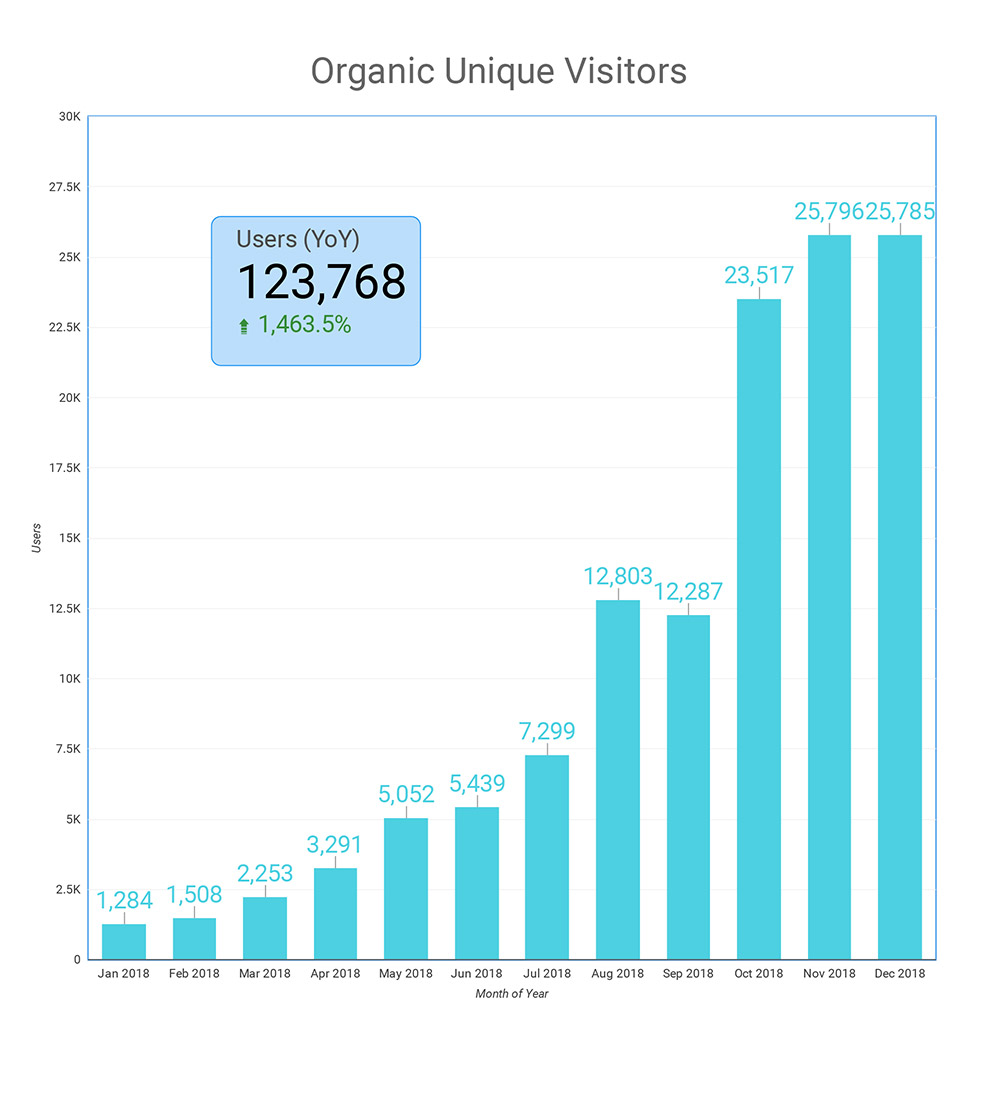 A strategy so nice we had to try it twice (sorry, we couldn't help it).  After the incredible success of our first case study employing this strategy, we decided we wanted to demonstrate that we could reproduce it, and…. (spoiler alert)… we did.
To recap the objectives from the original case study, in short, we set out to boost organic traffic through an engaging blog.  We wanted to leverage the blog to create a content repository of meaningful content that would help generate organic traffic.
We leveraged the same basic strategy and tactical elements from the original case study.  We used 8-10 blog posts per month, with 2 custom infographics and 2 custom videos.  We also used social media and a small social media budget (about the same as before, around $500/month) to promote the blog content as it was released to the site.
We changed the topic strategy slightly, as we didn't strictly adhere to topical posts.  Topical posts were still a large part of the content we helped the client produce, but we also leveraged data from another medium: PPC.  As a Pay Per Click client we had access to a ton of raw query data via Google Ads.  We examined the raw query data for the previous year and pulled out any interrogative queries, i.e. – any user search that started with who, what, when, where, etc…  We wanted to identify what our target demographic was asking, so we could sprinkle answers into our blog strategy.  This was a very good idea…
The results were (once again) off the charts. We once again hit a few topical home runs which really helped the over results.  Having a few posts go viral definitely helps, but keep in mind – we're only including organic visits in our analysis of results, as that was the objective (increase organic traffic).  So even if something went viral on social, we still needed to demonstrate traffic spillover from organic – which we did.
We started with an organic traffic baseline of just under 1,300 in the month when we began our blog campaign.  At the conclusion of our campaign 12 months later we had just under 26k unique visitors that month – a 20X increase in 1 year.  The year over year increase in organic traffic was nearly 1500% (from 8k unique visitors to 125k).  We also focused a little more on engagement this time around, paying special attention to whether or not the additional traffic was actually producing any ROI.  It was somewhat expected that metrics like time on site and pages/visit went down – it's the nature of topical content, it often just gets consumed and then users leave.  However, we also noticed an organic increase in call volume of 233%, which is the clients main advertising objective (phone calls).
If you're interested in learning more or looking to get your own campaign started, pick up the phone or send us a message today!
(YoY) Organic Traffic Increase These guys are great! Super knowledgeable in a very competitive PPC space addiction treatment. They handle multiple accounts for us, over 100k ad spend and the results are amazing. We have used other firms in the past but these guys so far are the best.
In addition to being a pleasure to work with, Full Circle SEM has proven to be highly effective in driving quality traffic. We have worked with a number of companies that seem like they have the right ideas but no one has delivered the way that Full Circle has. I am a tough customer to please and I could not be happier.
Super fast customer service and treats us like family not another computer! I'd recommend Full Circle SEM to anybody especially those with limited aptitude in those areas (like me). 11 on a scale from one to 10!
We've been a client of Full Circle SEM for 4 years and have been extremely pleased. Very competitive pricing with quick results. You could trust their skills & knowledge to do the right marketing for your company.