One of the most important components of the SEO process is choosing the right SEO keywords. By choosing the right types of keywords, you can put your website in front of the right people and optimize your organic traffic online. If you're using the wrong keywords, you can waste tons of time and money targeting the wrong people.
But how do you go about choosing the right SEO keywords? What keyword research strategy is best?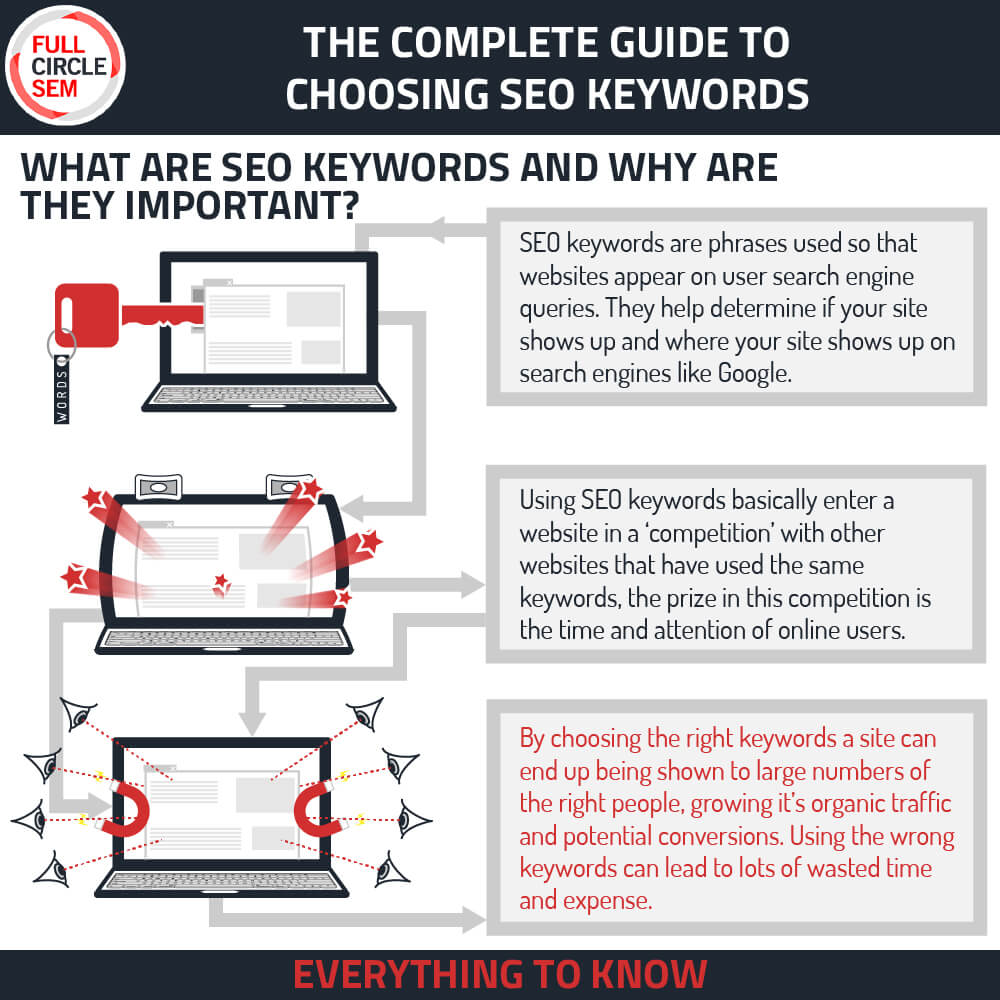 As an experienced SEO agency, we're well-versed in choosing appropriate keywords. Here's everything you need to know about choosing keywords for SEO.
What Are SEO Keywords
You might still be a little hazy as to what SEO keywords are. So, let's get a proper definition out of the way.
SEO keywords are phrases used on websites as a means of getting those websites to show up for search engine queries. They essentially enter websites into the SEO contest, thereby allowing them to compete against other websites that have used the same keywords.
Let's say that you're a plumber in Seattle, Washington. If so, you might use a keyword like "Seattle plumber" on the front page of your website. This way, when someone searches the phrase "Seattle plumber" on Google or another search engine, your website has a chance to pop up in the search results.
There is an endless array of SEO keywords out there, and they're typically broken down into two groups: short-tail keywords and long-tail keywords.
Short-tail Keywords
Short-tail keywords are basic and straightforward keywords. They typically contain between 1 and 3 words and aren't generally considered to be specific in nature.
These are the most commonly searched keywords. As such, if you rank high for them on a search engine, you can obtain tons of traffic for your website.
On the other hand, because they're so commonly searched, they're also commonly used. This means that, when trying to rank for them, there's tons of competition to go up against.
You should use some short-tail keywords on your website. However, you don't stand a legitimate chance of ranking for them until later on in your website's life.
Long-tail Keywords
Long-tail keywords are much more specific than short-tail keywords. They're also generally longer in length, usually somewhere between 3 and 6 words.
These keywords are much easier to rank for than are short-tail keywords. Note, though, that they don't bring in anywhere near as much traffic.
On the other hand, the traffic they do bring in is much more likely to find what it's looking for. Therefore, if your website serves the proper need, it will obtain some of the most valuable traffic imaginable, much of which is bound to turn into sales.
Examples of long-tail keywords include phrases like "best dog food brands of 2022" or "top home remedies for treating the flu".
In the early days of your website, it's a good practice to use a lot of long-tail keywords. The more of these longer phrases that you rank for, the easier time your website will have ranking for short-tail keywords.
How to Find New SEO Keywords
Now that you know the difference between long-tail keywords and short-tail keywords, you can start looking for keywords for your website. There are a number of ways to go about this, all of which we're going to review now.
Use a Keyword Research Tool
A common option is to use keyword research tools. These digital tools are specifically designed to help digital marketers find new keywords. The user enters a short keyword phrase into the tool which then returns a long list of similar keywords, both short-tail, and long-tail.
These tools also provide a wealth of other useful information, including competition ratings for each keyword, the amount of traffic that each keyword gets, and more. Generally speaking, it's wise to aim for keywords with low competition but high traffic.
Check the Search Engine Itself
Another option for finding new keywords is to check the search engine itself. Enter a phrase relevant to what you want to use and the search engine will bring suggestions up for you.
For instance, if you type "emergency plumber" into Google, the search engine will automatically follow the phrase with words like "near me" or "cost per hour". In other words, it's giving you additional keywords, those keywords being "emergency plumber near me" and "emergency plumber cost per hour".
You can do this with any phrase. So, head to a search engine and see what pops up.
Study Your Competition's Keywords
One last option is to study your competition's keywords. Look at their websites and see which keywords they use. Then, consider incorporating those keywords into your own content.
There are even some keyword research tools that will help do this for you. You could purchase and use these tools on your own. However, it might be a better idea to hire a digital marketing agency to do it for you.
Things to Consider When Choosing Keywords
When choosing keywords, there are several things you need to consider. These metrics will help inform you on whether or not your chosen keywords will be beneficial to your SEO efforts.
Search Volume
Search volume refers to the number of people entering a given keyword in a specific span of time. The higher a keyword's search volume, the more potential it has to send web users to your website.
Competition Rate
Some keywords are easier to rank with than others. It's all about how many websites are attempting to rank for them. The more websites that are trying to rank for a keyword, the higher that keyword's competition rate will be.
Seasonality
Just because a keyword has a solid monthly search volume average doesn't necessarily mean that it's a great keyword. If it's a seasonal keyword (ie. a keyword that gets tons of traffic during only a specific part of the year), it might not actually be beneficial for you. Always be mindful of this when choosing new keywords.
Interested in Hiring an SEO Agency?
Do you need assistance with keyword research? Interested in hiring an SEO agency? If so, we here at Full Circle SEM are the people to see.
Our team has all of the knowledge, tools, and resources needed to research SEO keywords and then put them to use in a comprehensive SEO strategy. Regardless of what your website is for, we can find appropriate keywords for it and help it gain traction through search engines.
Do you have any interest in PPC advertising? If so, we can help you with that as well. Contact us now to discuss your digital marketing needs!