Creating a highly visible brand online isn't something that most business owners clearly understand. With the modern digital landscape undergoing significant evolutions over the years, it can be difficult to know where and how to start your internet marketing journey, let alone how to do so profitably. This is why you should use Google Ads and, more specifically, work with a Google Ads expert like the professionals at Full Circle SEM.
Regardless of a business's long-term marketing goals, one tool that has proven to belong in any marketing toolbox is Google Ads. Formerly known as Google Adwords, and has been around for over a decade. It is one of the most successful and well-known forms of online advertising available. If your business hasn't already taken advantage of Google Ads' powerful brand exposure features, it's never too late to start.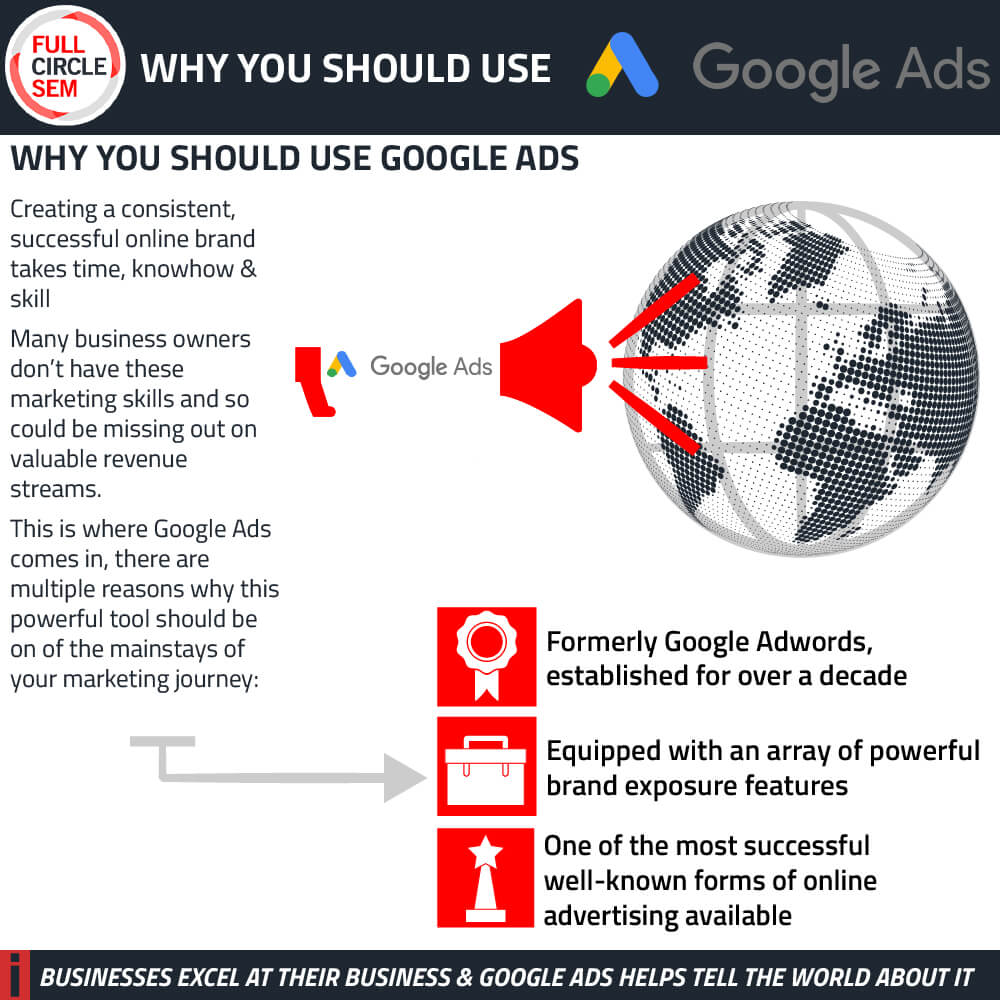 The Benefits of Utilizing Google Ads
For most businesses hoping to position their brand better online, you would be hard-pressed to find one that doesn't recognize the importance of being the first to appear in a Google search for a specific search term or keyword phrase. This is especially true for new brands and startups trying to discover their niche within their respective industries.
While gaining visibility through organic search results is a long-term goal, it's not necessarily the quickest way to create an impact on the bottom line. Google Ads provides businesses with a fast, cost-effective solution for reaching their potential customers while helping them attribute their ROI directly.
Below are some of the key benefits of utilizing Google Ads for your business:
Further Marketing Reach
One of the major benefits of using Google Ads is its vast reach. Google has over 8.5 billion searches per day. This means that regardless of the industry you serve, you can guarantee an audience out there looking for what you have to offer. With Google Ads, you can target these potential customers directly through search ads and display ads. Even YouTube video ads give you multiple opportunities to attract new customers and grow your business.
Precision Ad Targeting
When it comes to advertising, targeting the right audience is key. Google Ads provides various targeting options that enable you to show your ads only to users more likely to be interested in your products or services. You can target users based on demographics, location, interests, behavior, specific keywords, and even the content of the websites they visit. This detailed targeting ensures that your ads reach a vetted audience relevant to the market you're going after.
Flexibility and Control
Marketing spend can be an intimidating necessity for growing a business. However, Google Ads gives you full control over your marketing results and the budgets to support them. You can set daily spending limitations, granular bid adjustments, ad schedules, and more. And more, you can rest assured that you can successfully and sustainably grow your business.
Setting Up a Successful Google Ads Marketing Campaign
Whether new to Google Ads or a seasoned veteran, setting up a successful PPC campaign can be daunting. But following a few best practices can set your business up for success.
Below are five key steps you should look to follow when setting up a Google Ads campaign for your business:
1. Define Your Objectives and Marketing Goals
Google Ads has proven to be a successful marketing lever for businesses of all sizes. It's important not to fly blind when ad spending is concerned. Before you start funding your campaign, it's vital that you identify what primary objectives you're looking to achieve. Some common objectives include:
Increasing brand awareness and website traffic
Creating conversions, or
Facilitating video views or app downloads
2. Identify Appropriate Ad Formats
Not all Google Ad formats are created equal. Some are better suited than others for the goals you're trying to achieve. Google Ads offers different campaign types, including Search, Display, Shopping, Video, or App promotions. The type of campaign you choose will depend on the message you're trying to convey or the audience you want to reach, among other factors. If you're going to generate leads or drive conversions on your website, a Search campaign may be more effective. If promoting strong visual content or raising brand awareness is your goal, a Display or Video campaign may be best suited for you.
3. Establish Budgets and Target Locations
One of the critical aspects of setting up a successful Google Ads marketing campaign is allocating a suitable budget and deciding on your bidding strategy. Depending on your overall objectives and the size of your target audience, you can define a daily or monthly budget that makes the most sense for your business. Additionally, selecting the right target locations for your campaign is essential. If you serve only a specific region or country, you must ensure your ads show only to customers in those locations. This helps you maximize your exposure in markets that matter most to you.
Keywords and phrases are the lifeblood of every Google Ads campaign. The words or phrases you choose will determine how and when your ads appear in search results and affect how much you can expect to pay. When selecting keywords, it's important to think like a customer and consider the terms they might use when searching for your products or services. You can also use keyword research tools such as Google Ads Keyword Planner or competitors' campaigns to identify keywords best suited for your business.
5. Create Relevant Ad Copy and Landing Pages
Once you've identified the right keywords to target, it's time to create compelling ad copy that will grab your audience's attention. Ensure your ads are written clearly, feature a strong call-to-action, and accurately reflect what customers can expect from your website. It's beneficial to create dedicated landing pages for each ad group you create, as this will give customers a clear path to follow when they click through the advertisement.
Start Supercharging Your Marketing Efforts With Google Ads
Google Ads is one of the most efficient and cost-effective ways to help grow your business. If you haven't already, now is the time to begin setting up a Google Ads campaign and capitalize on this advertising platform's potential.
While Google Ads can be a powerful tool on its own, you can get even more return on your marketing investment by working with a digital marketing agency. Full Circle SEM has the experience and expertise to help you create, optimize, and manage your Google Ads campaigns while letting you focus on what's most important to you – running your business. Contact us today for a free consultation and see how we can help your business grow.