"Time spent on site" is often mentioned in the context of digital marketing. Also known as average time on site or average session duration, time spent on site is usually discussed with bounce rate and time on page.
Together, these indicate whether your visitors enjoy their experience on your website. In general, longer is better, but you want it to be because they're enjoying themselves – not because they're struggling to find what they need or can't complete an action.
Understanding and monitoring time spent on site is vital for improving the experience, but it needs to be taken in context with your other analytics and metrics. Here's how you can monitor and improve your time on site.
Time on Site vs. Time on Page vs. Bounce Rate
Time on site is the total time a visitor spends on your website, calculated from the timestamp when they first click on a link to your page and the timestamp when they navigate away from your website.
Time on page tracks the total time someone spends on a single page of your website, which is part of the total time on site but is still a different metric. Bounce rate is the percentage of visitors who land on a single page on your website and leave without going to another page.
Why Does Time on Site Matter?
Time on site is an excellent metric for determining how valuable and relevant visitors find your entire website, rather than just one page.
This is different from dwell time, which measures how long a visitor spends on a single page. It's also measured using timestamps but only measures that specific page rather than the whole site.
The average time on site considers the total number of hours spent on a website during a particular period, divided by the number of new sessions. Single users may have multiple sessions if they visit your site over several days, start on your site, navigate away, and return to complete an action.
Time on site is important, but it's not a search ranking factor. Google is the most-used search engine, and not all websites use Google Analytics, so there's no way to accurately measure time on site for most sites. Without the data, time on site can't be reliably used as a ranking factor.
How to Improve Time on Site
In general, you want visitors to spend more time on your website. If you only have a homepage and product pages, visitors who aren't intent on making a purchase won't spend much time on your site. Keep in mind that most people want to make a purchase quickly.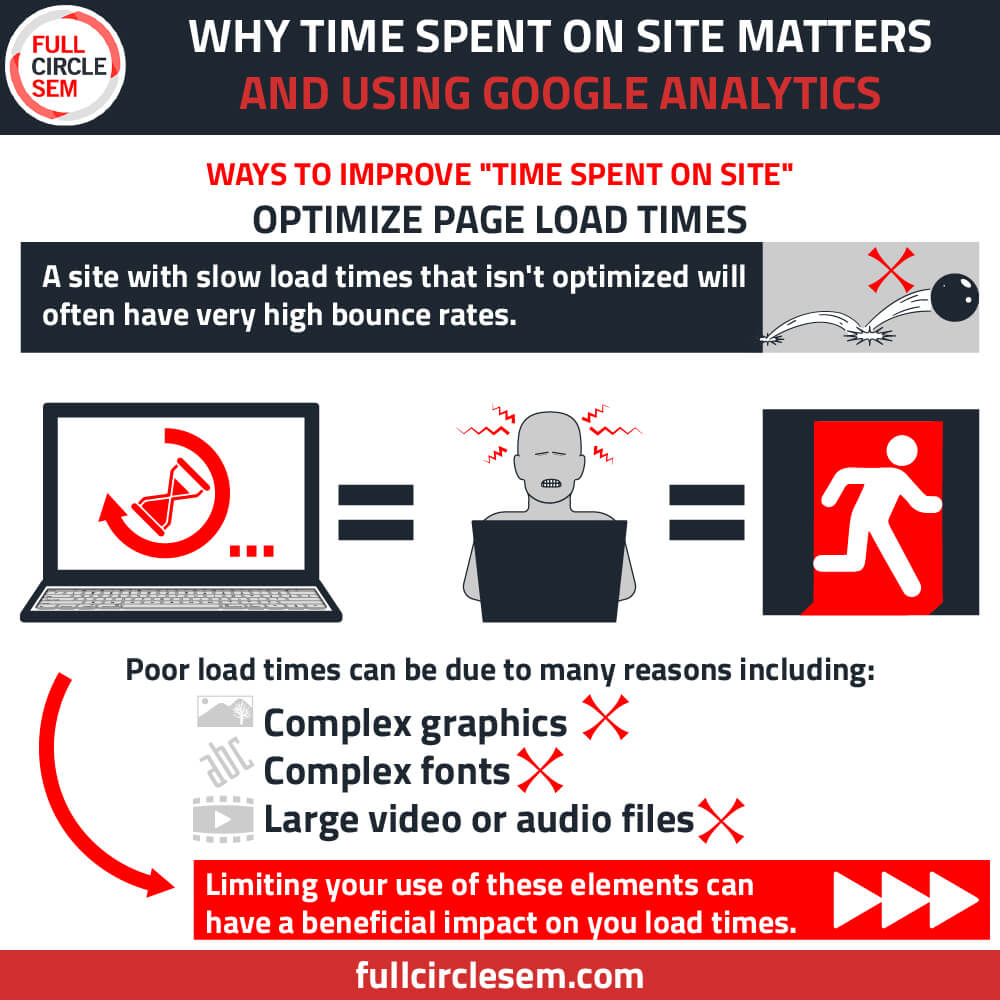 Here are some ways to encourage visitors to spend more time and improve your time-on-site metrics.
Offer Relevant Content
Along with your products and services, your website should have pages of high-quality content. This could be information about your founder or your brand story, awards pages, pages about employee accomplishments, tutorials for the products, white papers, case studies, or blog posts.
However you choose to include content, it must be relevant and valuable to the visitors. Your content should always reflect the tone of your brand and provide information that appeals to your audience, giving them a reason to stick around.
Optimize Page Load Times
A site that isn't optimized is a significant factor in bounce rates, and one of the most common reasons for that is slow load times. Visiting a site and waiting on load times can be frustrating and cause your visitors to click away, no matter how enticing the content is.
Sure, some visitors will try to refresh the page and may wait a short time, but there's no guarantee. People are busy and may be multitasking or dealing with poor internet connections. You need to optimize your site to work well for them so that people don't have to work hard to get what they need from your business.
Several aspects of your site can contribute to slow load times, including complicated graphics or fonts. Moving images, embedded videos, or music may be the culprit. If you're worried about your load times, consider limiting your use of these additions.
Include Target Keywords
Even if you have the best content, it doesn't matter if your audience can't find it. You want your content to appear in the search for what people are looking for, not a broad audience. Research keywords and include them in your content and related keywords or variant keywords.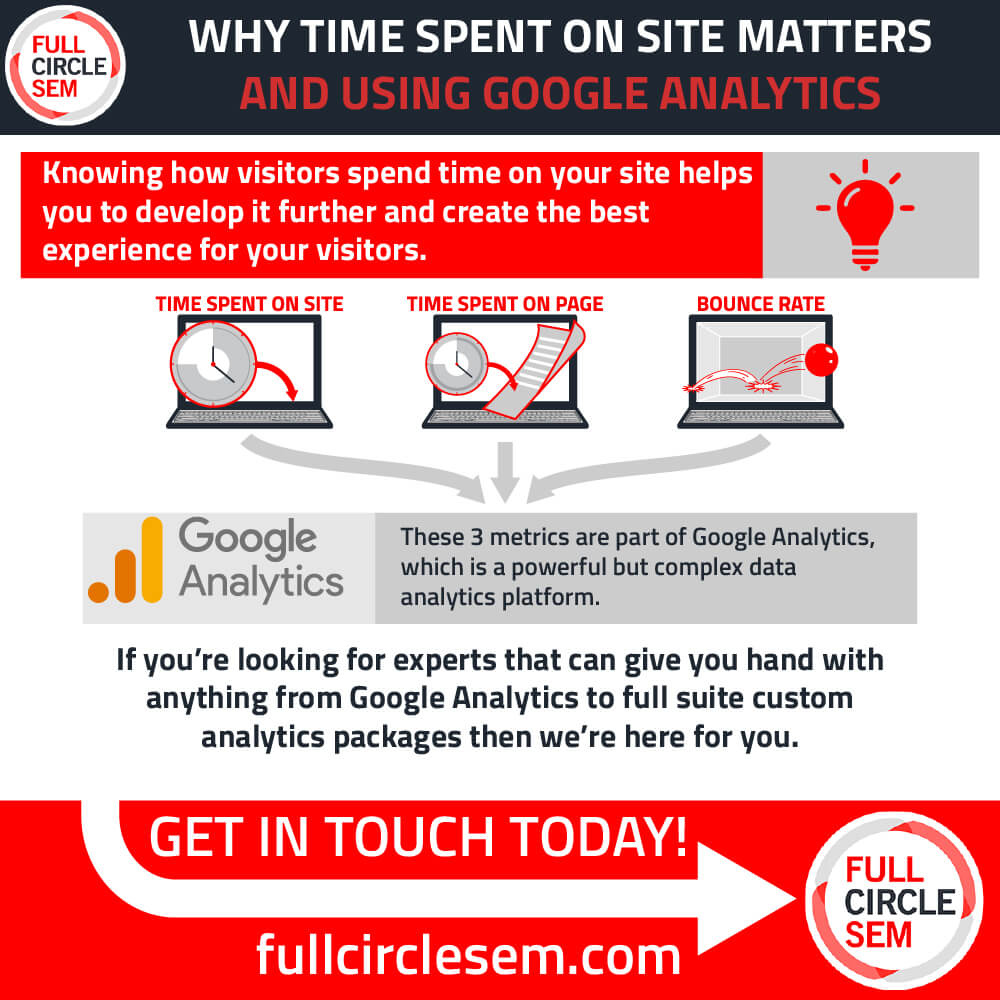 Track Time Spent on Site with Full Circle SEM
Knowing how long your visitors spend on your website helps you understand how you can optimize it and provide a better experience overall. If you want help with your analytics, Full Circle SEM can help! We've got you covered, from Google Analytics to full suite custom analytics packages. Contact us today to take your brand to the next level!