In today's digital world, no business is immune to the need for a solid digital marketing strategy. This includes the healthcare industry.
Healthcare marketing is one of the top growing industries in the small-to-medium segment of the digital marketplace. Studies have found a meteoric 220.38% increase in traffic to healthcare websites since the pandemic.1
Healthcare is of unquestionable importance. That's why SEM services companies in Fort Lauderdale like Full Circle SEM help healthcare companies enhance their digital marketing.
Why Is Healthcare Marketing Important?
Your mission as a healthcare organization is to provide services to improve a patient's health and quality of life.
Perhaps it may feel disingenuous to use marketing tactics as a healthcare company. However, when you have a healthcare marketing plan, you're actually sharing your products or service benefits with the right audience. Thus, it will help your potential patients and your company. Healthcare marketing plays a crucial role in acquiring new patients and allowing your business to continue providing its services.
In general, healthcare marketing allows you to get in front of the eyes of the individuals that need to hear from you most. Seven in 10 adult internet users search online for information related to health issues.2 Therefore, your online marketing efforts (if done well) are likely to motivate them to become a new patient and get the treatment they need.
5 Killer Tips For Running Successful Healthcare Marketing Campaigns
Healthcare marketing is one of the best ways to
establish credibility and authority in the health space,
increase new patient acquisition,
and help in educating the public on necessary health measures.
Let's get into some of the best practices for running an effective healthcare marketing campaign:
#1: Focus On Connecting With Your Audiences
As a healthcare company that aims to support and treat patients, audiences need to see you as an approachable, empathetic, and caring entity. This means that you should focus all of your healthcare marketing strategies on providing value to the patient and their families at the forefront.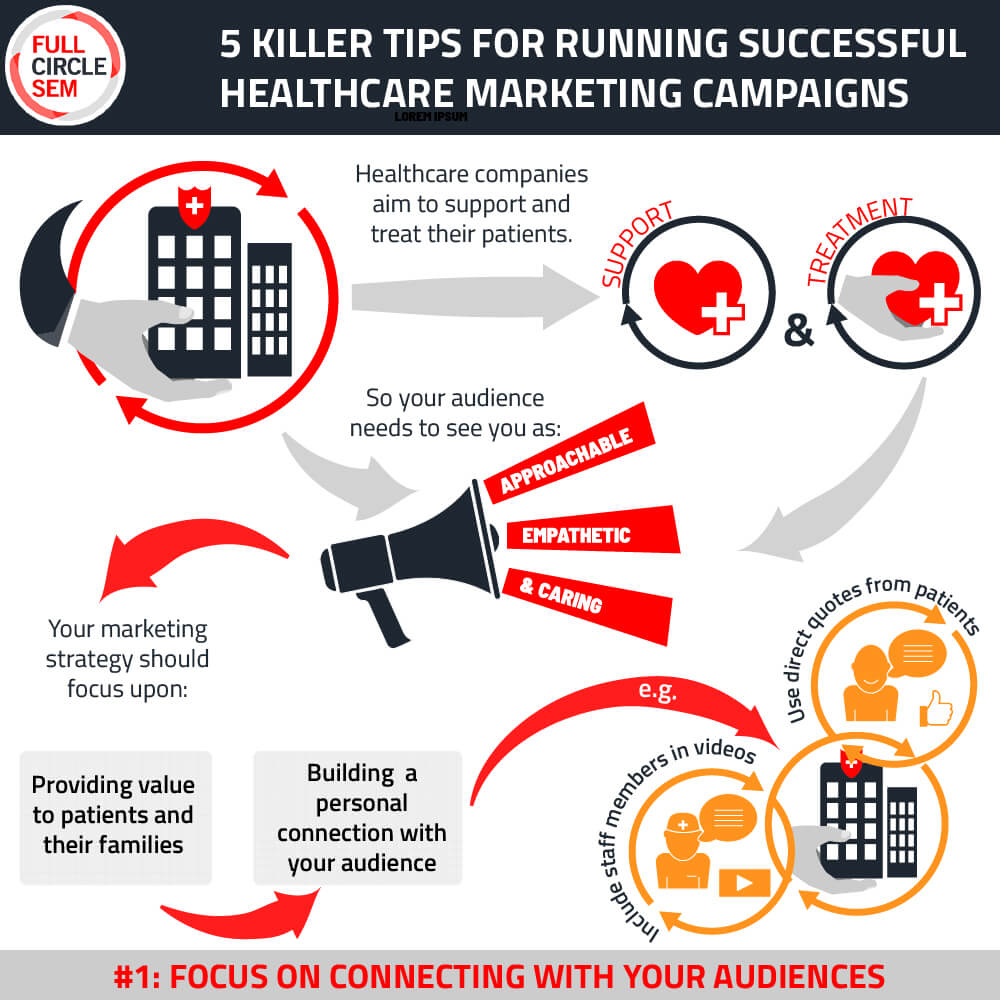 This could feature staff members in a video or using direct quotes from patients. Basically, marketing efforts that build a more personal connection with patients are a must.
#2: Work On Increasing Your Number of Patient Reviews
Did you know that 84% of people trust online reviews as much as they do their friends?3 Reviews can make or break your reputation for potential new clients. Furthermore, they can also improve your rankings on search engines.
Having reviews on sites like Google or Yelp will go far to establish your credibility. Featuring good reviews on your site can also seal the deal for some patients. Finally, please don't wait for patients to leave reviews. Find ways to encourage and guide them to leave a review.
#3: Pay Attention To Certifications on Google Ads
Due to Google's popularity and audience targeting capabilities, creating advertisements on Google Ads is an essential piece to any digital healthcare marketing strategy. Depending on the type of healthcare sector an organization is in, there are a variety of legal certifications that you must obtain before you can effectively advertise on Google.
More specifically, Google highlighted that online pharmacies, addiction services, and health insurance companies in the United States could advertise with Google Ads with certain limitations in place.4 Some examples of certifications include G2 certification and LegitScript certification. Facebook ads also have requirements similar to Google, so always pay attention to these nuanced parameters before starting with the advertising process.
Content marketing is an excellent method of increasing brand awareness and reputation. Content like blog posts, social media, and videos let you showcase your expertise on a specific issue in healthcare. You can discuss symptoms of a health concern, tips for wellness, or highlight advice from someone on your team.
#5: Outsource Digital Marketing To The Pros
For any industry, digital marketing comes with quite the learning curve, which is why a professional marketing agency is a solid investment for ensuring that your strategy is of the utmost quality. As a healthcare company, prioritizing the needs of your patients will always come first. When you work with digital marketing professionals at Full Circle SEM, we can focus our time, energy, and efforts to create, implement and monitor a cohesive marketing plan for you.
Full Circle SEM: Services Fort Lauderdale Healthcare Companies Can Rely On
Save yourself the time and effort trying to learn the ins and outs of digital marketing. Instead, hire a team of marketing professionals like our team at Full Circle SEM. We offer SEM services in Fort Lauderdale, Florida, and across the United States to bolster countless healthcare companies' reputations and reach in no time. Contact us online or call us at 888-757-2714 to get started today!
Sources:
[1] https://www.semrush.com/blog/smb-digital-trends/
[2] https://www.pewresearch.org/fact-tank/2014/01/15/the-social-life-of-health-information/
[3] https://www.inc.com/craig-bloem/84-percent-of-people-trust-online-reviews-as-much-.html
[4] https://support.google.com/adspolicy/answer/176031?hl=en